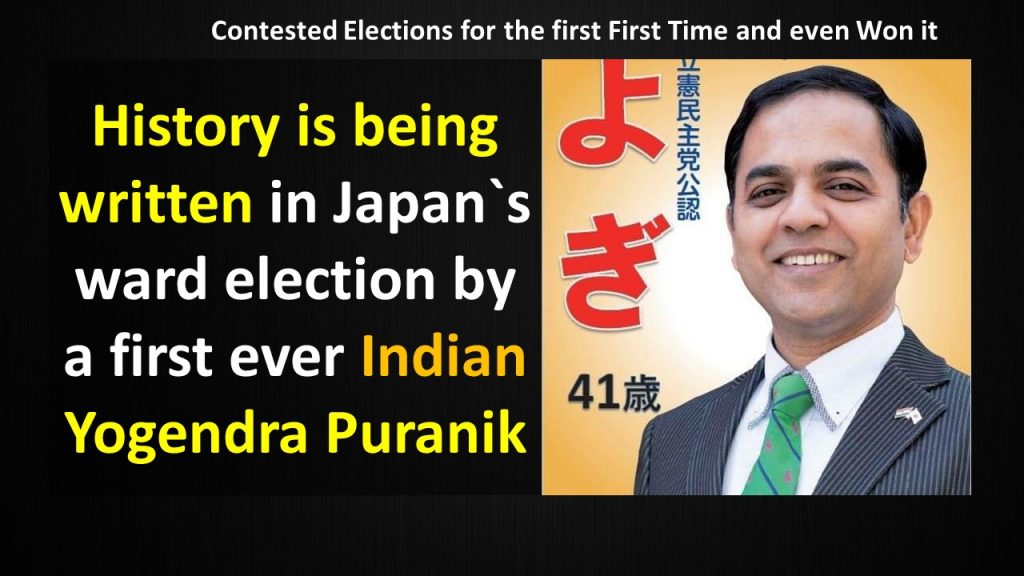 Its an amazing moment for Indians in Japan to witness first ever Indian contesting elections in Japan and also winning it. This is a moment of pride &  accomplishment for every Indian.
Please make sure to spread this great moment with your friends and families across the world. 
The Edogawa City Council Councilor Election results were finalized earlier today (16:00) for which the campaigning started from early April and ended on 21st April. Yogendra Puranik (Yogi), first ever Indian participating such elections from Edogawa-Ku (one of the 23 wards of Tokyo), Japan, achieved great success in these elections as Indian in Japan.

YOGI:
Yogendra Puranik, age 41, born in Ambarnath Mumbai, came to Japan 20 years back and was active in the community since then. He worked in various companies in IT and Banking sector. He studied his Japanese in Pune with his father inspiring him to take up a new language. His experiences in the country and urge to serve others prompted him to run for an election.
For more about Yogi, watch his video exclusive pre-election interview link below conducted by IndoJapanPulse.
Please press the link here for interview:


THE CAMPAIGN:
The election campaigns in Japan are different than what we have it in India. In Japan there are not infinite resources and people who can work with you due to work obligations. Even Yogi was doing his day job along with campaigning early in the cold mornings and even in the evenings till late, post work.  He was doing this by visiting train stations entry points every day during this period. During the last days/weekends of campaigning, it became more intense for even 12 hours of continuous run covering Kasai, Nishi Kasai, Kojimacho, Funabori, Ichinoe, Mizue, Shinozaki, Koiwa, Hirai, Komatsugawa, Kita Kasai and Nishi Kasai again. It has been intense efforts by Yogi.
He was offered an election ticket by the current opposition party named Constitutional Democratic Party (CDP) as announced on 11th April. The current party in power is the Liberal Democratic Party (LDP). A small group of volunteers helped him to paste posters at 517 Dashboards (where people can see their candidates) across the city and distributed around 4000+ fliers at various locations.  He also gave speeches near the stations where most of the citizens took note of his candidature and Agenda.
Dashboards in the city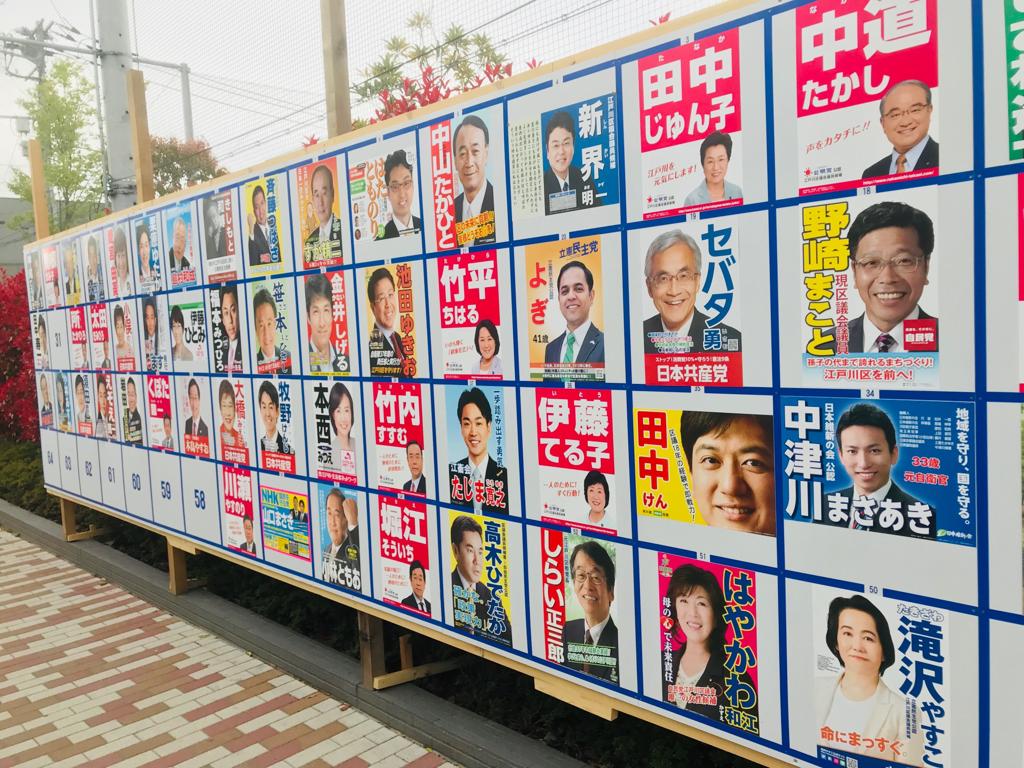 Campaigns:
His Agenda was as follows:
AGENDA:
– Getting new local & foreign investments in Edogawa, to increase the tax revenue and increase work opportunities
– Public creche for all, including foreigners. Freeing up the womanpower to settle into jobs. Japan is already running short of manpower.
– Internationalizing the local education and freeing the schools from issues like teasing etc. Also, pushing ward run international schools.
– More services for the elderly and being a pipe between the Japanese and foreigners community.
– Periodic meetings with the community to understand what people need and connecting the same to the political and administrative agenda.
From the morning of 4/22, we were keeping a close watch to elections result in Edogawa-ku and the indications were already there since morning when Yogi reached 6,000 votes mark by 11:00 am
RESULT DETAILS: Some important points
Total Number of Voters: 2, 32, 177 (2 Lacs thirty-two thousand one hundred seventy-seven)
1. Total Candidates: 58
2. Members to be selected: 44
3. Yogi`s position (Overall) : In Top 5
4. Yogi`s position (New Candidature) : Top 2
5. Yogi`s position (Constitutional Democratic Party) : First
6. Highest Votes winner: 8, 269 Votes (Eight Thousand Two hundred Sixty Nine)
7. Yogi`s Vote count: 6, 477 (Six Thousand, four hundred Seventy-Seven)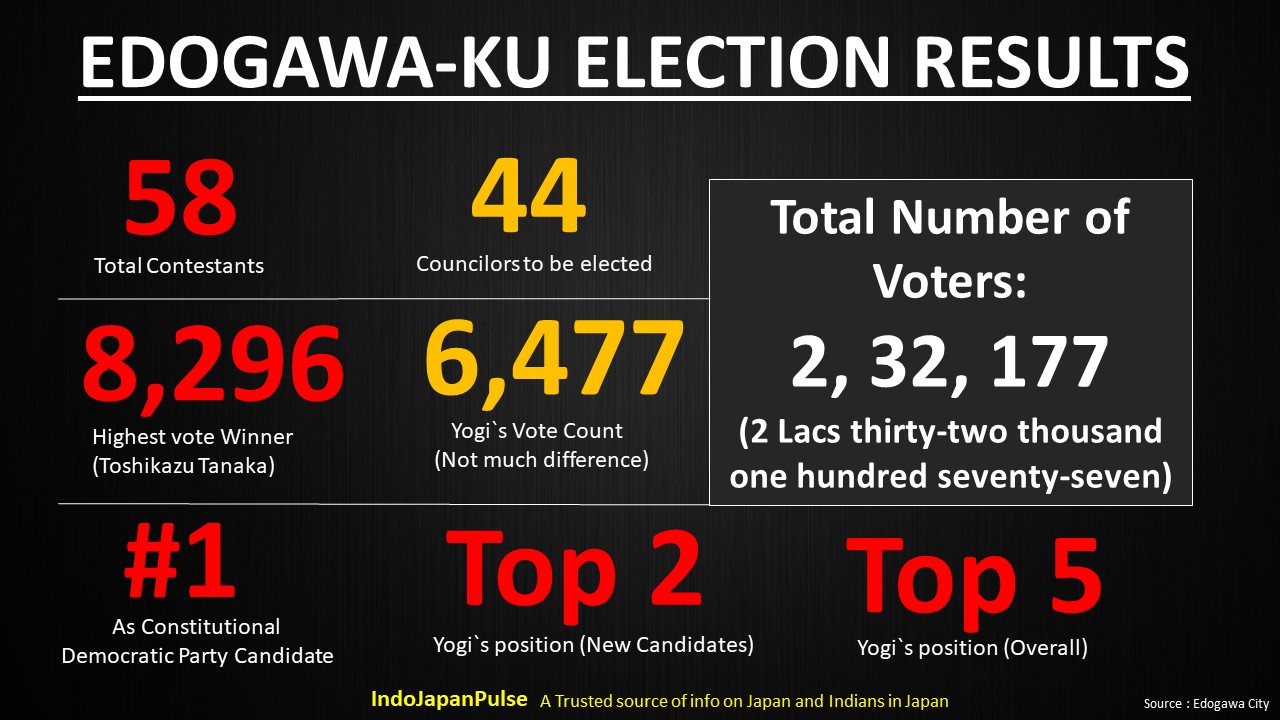 IndoJapanPulse congratulates Yogendra Puranik (Yogi) for such a historic win and wish him good luck for all his activities

Source for Statistics:
Japanese:
https://www.city.edogawa.tokyo.jp/edg/senkyo_kugi_kucho/kaihyou/g.html
English:
https://www15.j-server.com/LUCEDOGAWA/ns/tl.cgi/https%3a//www.city.edogawa.tokyo.jp/edg/senkyo_kugi_kucho/kaihyou/g.html?SLANG=ja&TLANG=en&XMODE=0&XPARAM=keyword,&XCHARSET=utf-8&XPORG=,&XJSID=0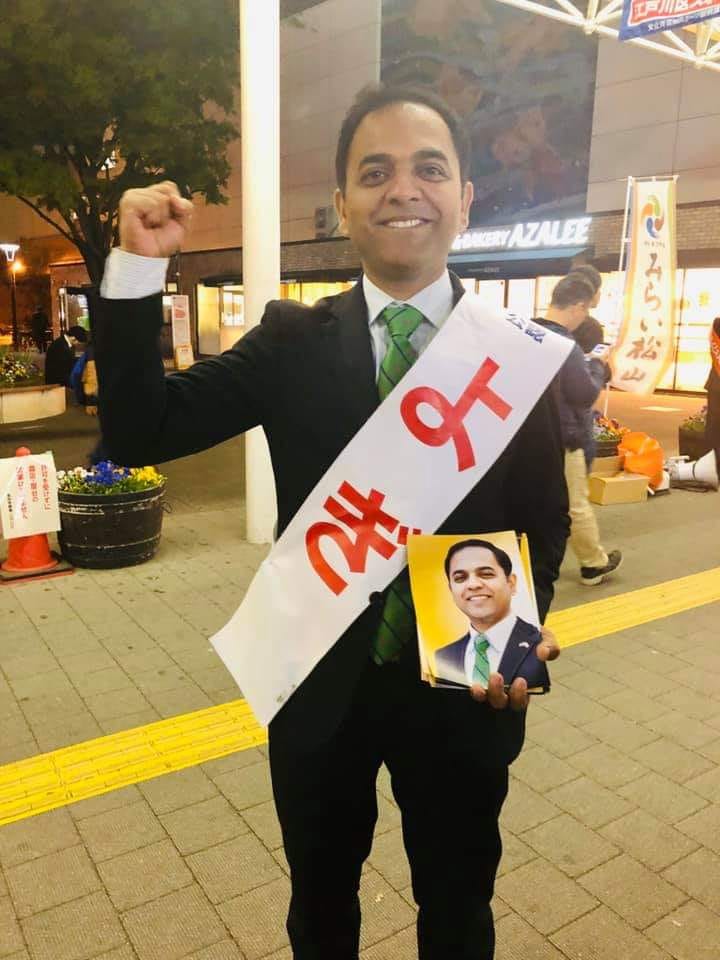 For lovers of numbers, please refer below:
In Japanese :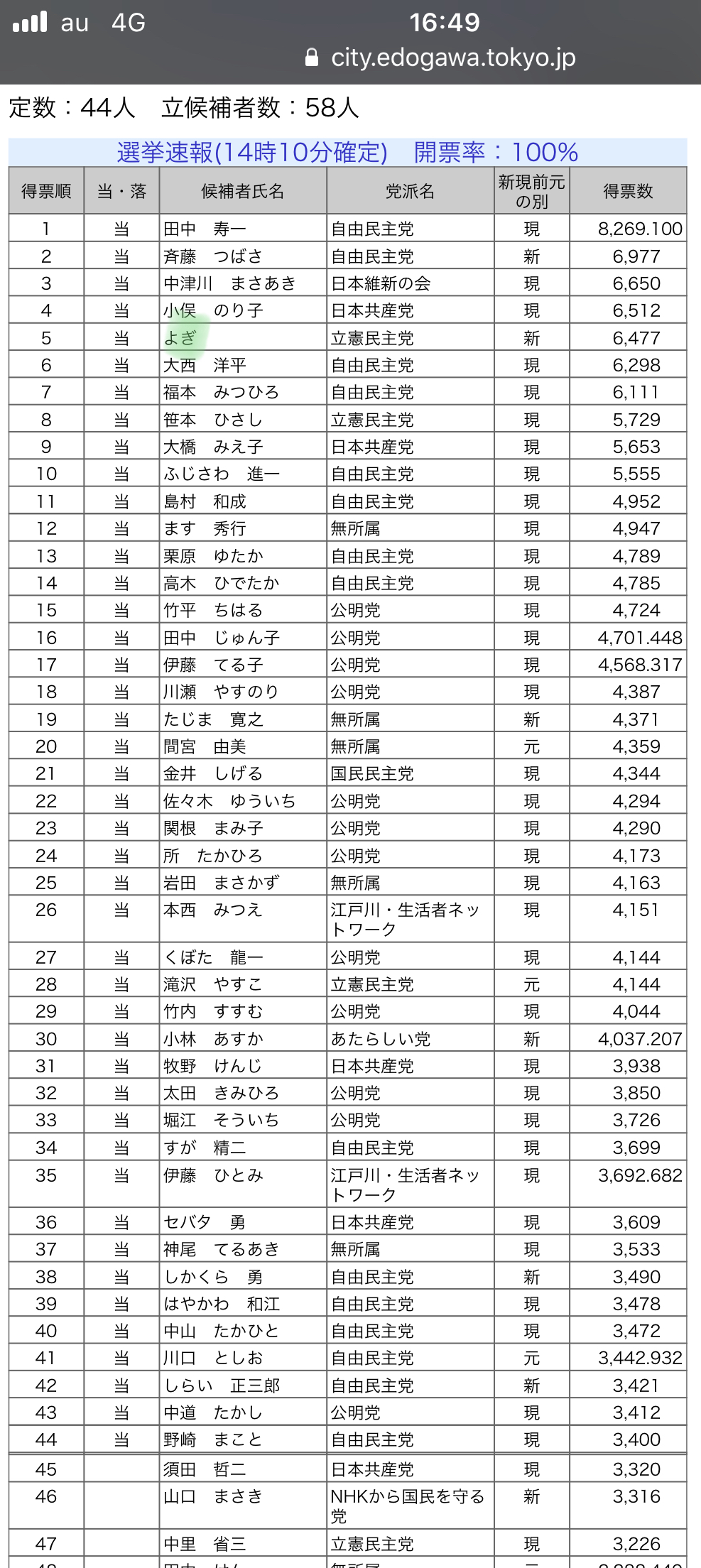 In English: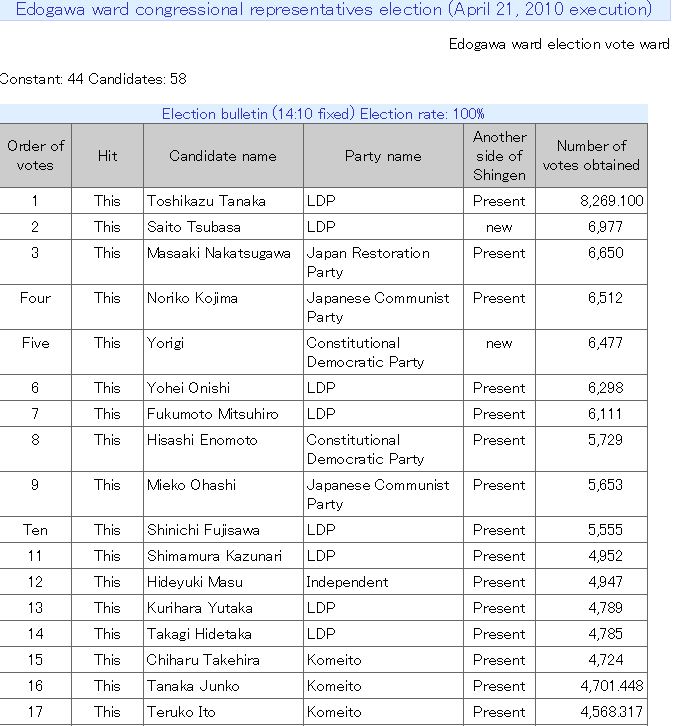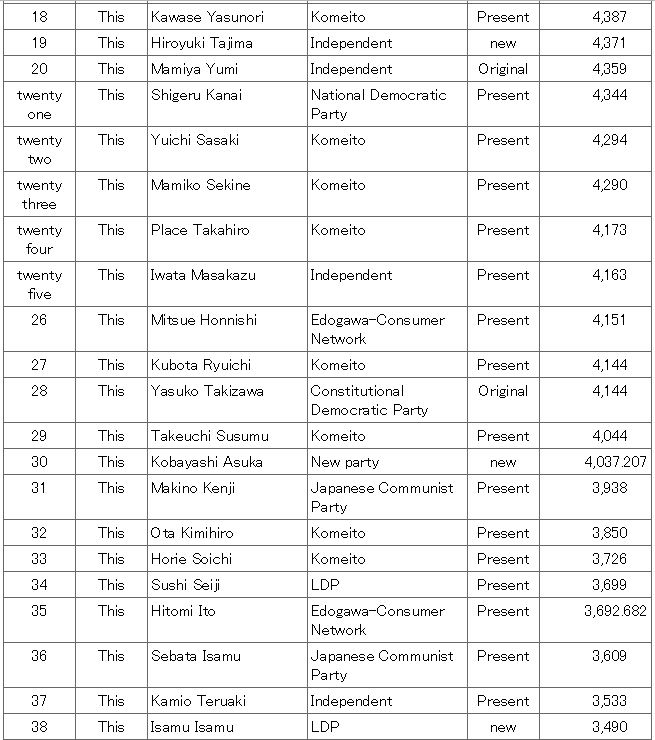 Leave a Reply to IndoJapanPulse

Please look at footer of website for
Disclaimer
and
Privacy Policy
.