Mission 1000 Days – ThinkSmart Inc mantra for Jumstarting their startup !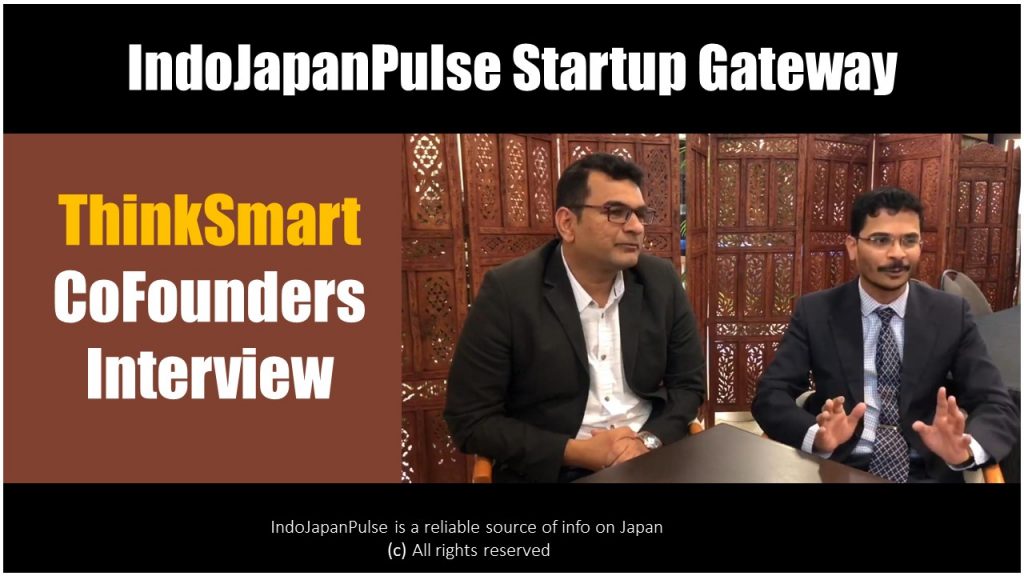 Mission 1000 days is not a movie title but reality. The reality of two founders of an IT company who came together to solve a specific problem not in the usual way but with a smart approach. Pune based company have launched themselves in Japan competing with various companies with their own unique proposition.
IndoJapanPulse Startup Gateway is excited to introduce startup founders. In this video interview, let's hear from ThinkSmart founders Sagar Patil and Nilesh Bhattad about their startup story and know what is this "Mission 1000 days"
Humble, down to earth, dynamic and young co-founders of ThinkSmart are focused latest technologies like Blockchain, Quantum Computing, AI and IoT. Important to understand their views on Japan market and how they sustained initial challenges and considering growth.
Listen in where they share about their struggles, early days, growth, about Japan market expectations and how they are taking up it next level.
In this insightful video interview, you will get a perspective on :
1. What challenges a new company face and how they overcome? 1000 Day challenge, ThinkSmart and cofounders Insights
2. What are the customers in Japan demanding?
3. What is expected from employees if wanted to work in Japan successfully
Below are the topics we covered in the interview. Minutes based navigation may help you to understand which topic in sequence.
| | |
| --- | --- |
| Min | Topic |
| 2:18 | Trigger for a company. How did the name "ThinkSmart" come up? |
| 3:38 | 1000 days challenge they gave themselves initially |
| 6:04 | Know Sagar Patil & Nilesh Bhattad |
| 8:15 | Early days/Initial customers of ThinkSmart |
| 12:40 | Expectations Of Japanese clients |
| 15:27 | Becoming partners than just Vendors |
| 17:11 | Migration |
| 19:30 | Why do business in Japan? |
| 22:55 | Growth Plan in Japan |
| 24:25 | Tech focus |
| 27:32 | Message to people who want to venture into area Of entrepreneurship |
| 28:30 | Challenges Of entrepreneurs & how they overcame when entering into Japan market |
Drop a line and let us know how you felt about the interview.
For details on Startup Gateway to start floating your dream in Japan
https://indojapanpulse.com/category/startup-gateway
ThinkSmart on StartupGateway
https://indojapanpulse.com/2019/02/thinksmart-it-solutions-pvt-ltd
Reach us through following
contact@indojapanpulse.com
Leave a Reply to IndoJapanPulse

Please look at footer of website for
Disclaimer
and
Privacy Policy
.